About Medellín
Medellín was born from a colony surrounded by crops, because of its strategic location and commercial vocation; it was declared a city in 1675. Subsequently, it is the capital of Antioquia, due to its economic and cultural dynamic resources.
It has been chosen, in less than a decade, as the ideal embodiment of world-class events such as: the 38th General Assembly of the Organization of American States- OEA in 2008, the 50th Assembly of Governors of the Inter-American Development Bank – BID- 2009 , and the 9th South American Games in 2010.
In the twentieth century, the cultural life of Medellín has also grown to include the headquarters for major media such as El Espectador, Caracol Radio and RCN Radio, now present throughout the national territory. Illustrious writers were also born here such as Thomas Carrasquilla, Fernando González and León de Greiff, who have had their stories read all over the world.
The climatic conditions of Medellín are ideal, as the city sits between ridges it creates a unique climate with all sorts of vegetation throughout the year and temperatures ranging between 18 º C and 28 º C. Furthermore, the surrounding mountains make it a very green city.
Medellín is a city which people love for the greenery, friendly people, history and culture. Make the most of your stay in the second largest capital of Colombia.
Attend the Fashion World Convention in Medellin with Avianca, and enjoy preferential treatment nationally and internationally. Avianca is currently offering special discounts on flights to Medellin; these discounts only apply on flights operated directly by Avianca.
Book and purchase your ticket at any of Avianca´s call centers, offices, travel agencies, or through their website www.avianca.com. At the time of booking mention the event code (GN 801) and present your event documentation (registration or invitation) to enjoy the discounts.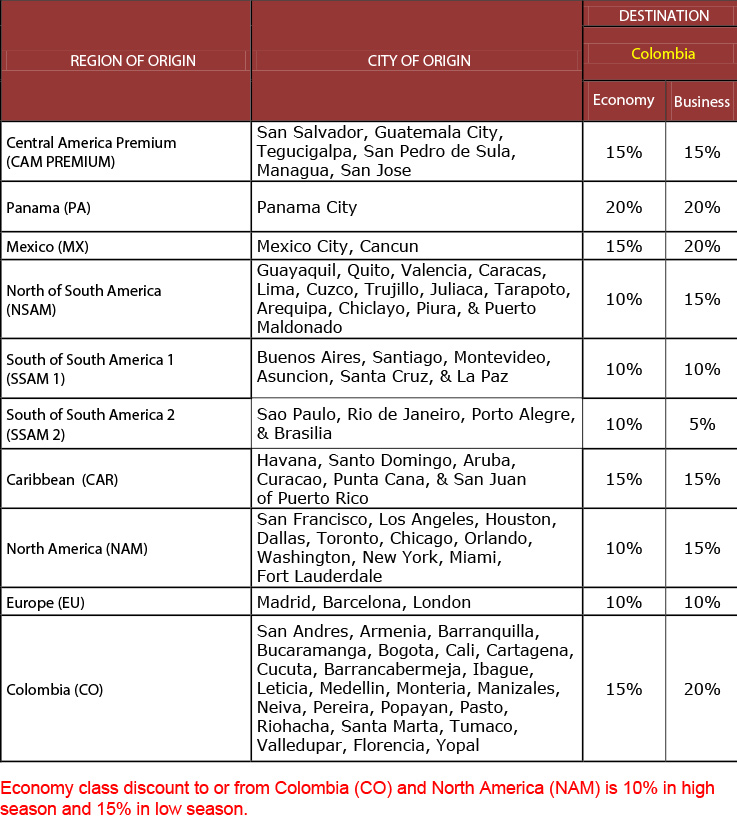 Get to know the most famous sights of the city
* Information taken from http://medellin.travel/
Medellin is the second largest city in Colombia and the most innovative in the world. In 2014 Medellin will be the host of the IAF, an event that affirms the city´s innovation, creativity and entrepreneurship.
Cartagena is one of the most beautiful cities in the Caribbean.  As one of the richest cities in culture and folklore expressions, Cartagena brings together the most important cultural events of the country.
The international business meeting of the Fashion System will come to Medellin and Cartagena in 2014. Be part of this great event!
Transformation of Medellin, Colombia